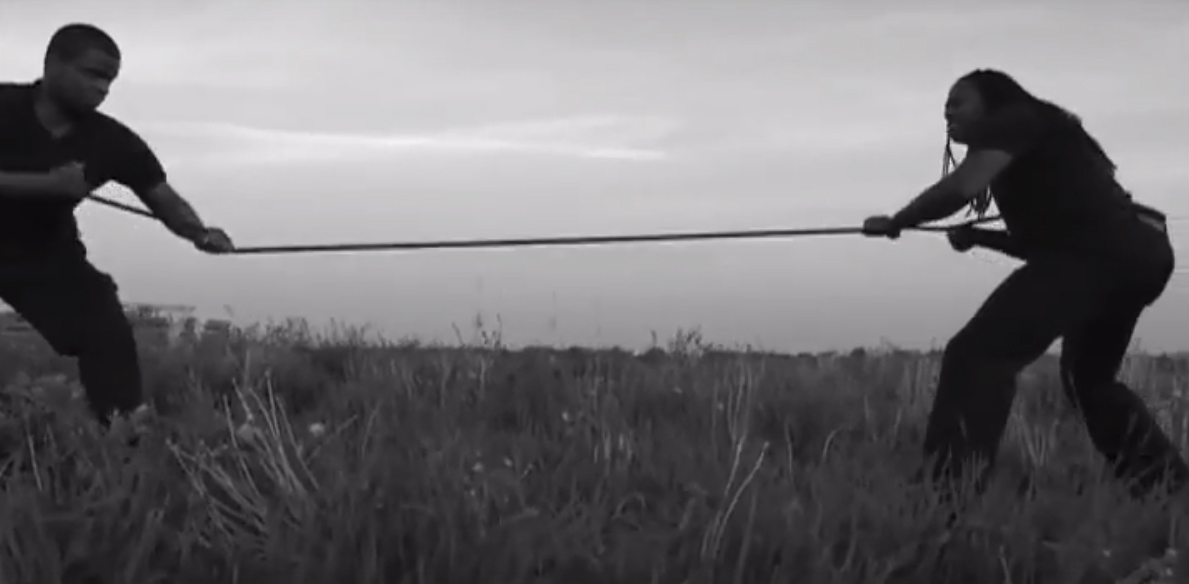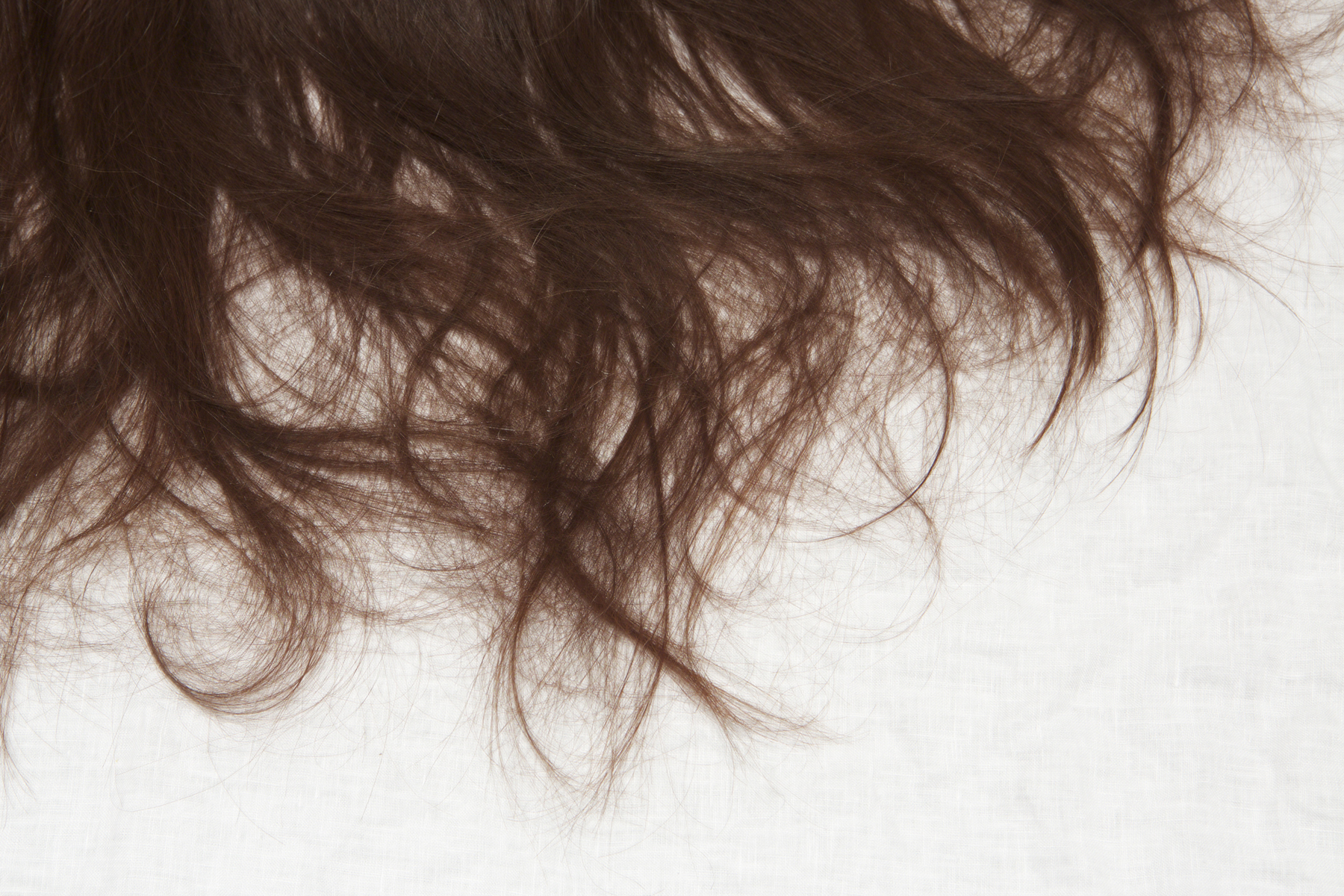 Code-Stitch: Resistance in Apparel
Exhibition Dates: March 16th - April 28th, 2018
How's Howard? is pleased to present Code-Stitch: Resistance in Apparel, a three-person exhibition featuring work by Melanie Bernier, Katarina Riesing and Sophie Treppendahl. Code-Stitch: Resistance in Apparel highlights artistic practices rooted in feminism, gender identity and the #MeToo movement. Articulated through painting, sculpture and embroidered apparel, these three female-identifying artists tackle socio-political agendas and construct a united voice in response to gender-based prejudice and discrimination.
Driven by her social practice and a desire to maintain a zero-waste lifestyle, Melanie Bernier introduces objects responding to the deconstruction and re-formation of secondhand garments. A pointed reference to sexual abuse advances through the sculptural representation of objects that possess a call-and-response attribute. A whistle, snare drum and deflated ball are constructed from clothing and embroidered with the text "No" or "Oh Well" onto their surfaces.
Katarina Riesing's work includes erotic painting and stitched images on silk, as well as embroidered imagery and text on vintage jean jackets and a white sports bra. Yonic shapes and images of nipples and eyes entice the viewer while disembodied hands and fingers seem to assert the message: BEWARE. This push and pull interaction with the viewer speaks to the complexity in owning ones strength in seduction and sexuality.
Sophie Treppendahl reflects on ideas of self-representation and identity through paintings of borrowed articles of clothing. Described through a garment's specificity for gender and it's ability to display personality, a transcendent portrait is created- one that is able to more accurately and openly describe self-representation, free from gender-based assumptions and stereotypes.
Anthony Palocci Jr.
It Can't Rain All The Time
How's Howard is pleased to present a solo exhibition of recent work by Anthony Palocci Jr. In this series of intimately scaled paintings, Palocci explores ideas of masculinity, sexuality and loss through close observation, isolation and magnification of objects.
These evocative images symbolize a message of gender and personal relationships, including the complex dynamics of the father and son relationship. Like navigating a crime scene, Palocci hones in on minute observations. He unfolds intricate and sentimental connections, studying and interpreting relationships through close-up investigation of cryptic items. Seemingly mundane objects, not particularly noticed from day to day, become moments of intense focus.
Palocci's solemn still life paintings incorporate a human presence without its literal portrayal. Each object begins to suggest situations and personalities alluding to someone present in Palocci's life and yet, absent in the painting. Clues of specific individuals are revealed through the experience of an object. A bar of soap sculpted by its user takes on a monolithic presence and emotional weight, as it occupies the majority of space and attention within its' confines. Palocci photographed this bar of soap in the bathroom of a recently deceased friend. In his painting derived from this photo, muted color and tender brush strokes speak to Palocci's memory and homage to a loved one.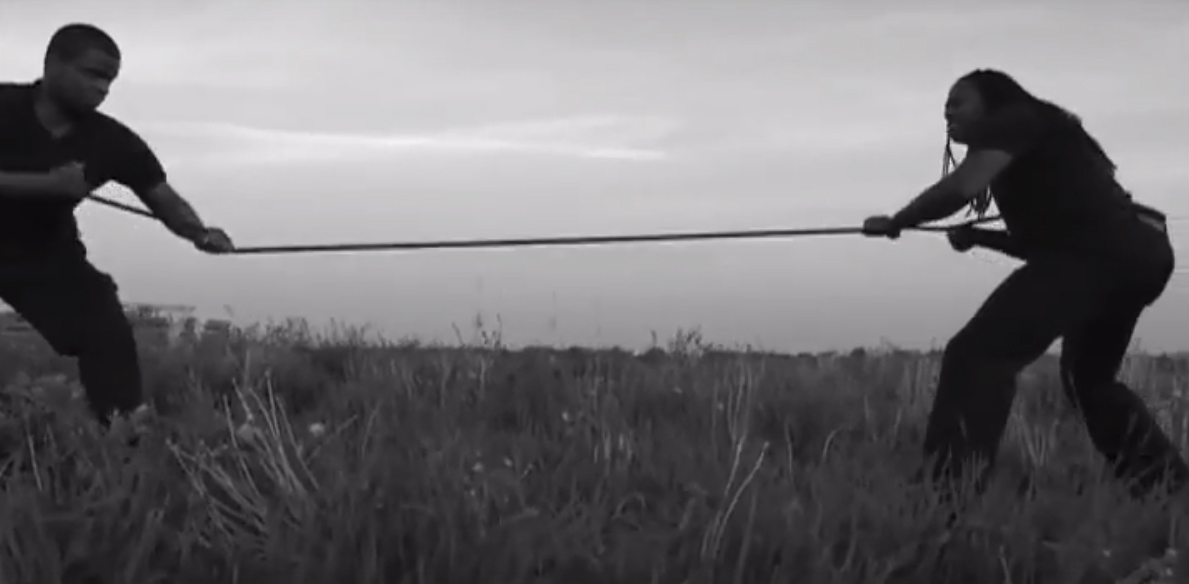 Dance Me Loose
August 4th - August 27th, 2017
A summer show curated by Robin Dash and John Roy featuring the work of Josh Blackwell, Jan Corash, David Dash, Robin Dash, Marlon Forrester and Saul Levine.
"How's Howard?" is pleased to present our summer group show. In Alice Munro's 1971 novel, "Lives of Girls and Women", one character implores another: "dance me loose". In a variety of ways, these artists are tackling this directive. Subject matter, materials and media, as well as conceptual concerns, are all up for grabs as the artists find their own paths to untethering themselves from the tensions and limitations of our contemporary society. As each artist introduces approaches that shake up and shake out particular preconceptions and political and social inequities, a liveliness and immediacy grips the work.
Josh Blackwell takes the overlooked and ubiquitous plastic bag and through an over the top process of decorating and desecrating, transforms it into a precious and powerful work of art: a "never use". Stitched, embroidered and quilted, a spirit of the body takes up residence.
Blackwell's "sweaters" speak to how clothing performs gender and to the tradition of hand knitting a sweater for a beloved child. Blackwell's works on paper, shaped as small sweater silhouettes, are tenderly painted. They infuse a knitter's attention to repetition with playful swipes and dabs of radiant color. Animated with signs of wear, they, too, feel embodied.
Jan Corash's commanding and luminous paintings on paper bring the viewer's attention to the simultaneously strong and vulnerable nature of each figure. These lush and rigorous paintings
emit light from delicate under drawings. Unusual cropping of the figure highlights what sometimes is the odd and ambiguous nature of the human stance. The sculptures Corash creates are less about rendering the figure and more about the artist's own body shaping her materials. Twisted, folded and crumpled, these abstract objects take their place in the gallery's unconventional spaces, much like the figures who seem to walk into her paintings.
David Dash's small, tiny even, works on and of paper, hold the wall with a presence unusual for their size. Brave in their minimalism and magical in their private language, they may look at first casual, but their very essence reveals just how highly considered they actually are. Intimately shaped, collaged and constructed of crumples, creases and shadows, Dash's work hovers between painting, relief and sculpture. The coexistence of memory and dream adds a poetic and mysterious thread to what may ultimately be landscapes. Dash also creates artist's books and we are delighted to present a new collaboration between Dash and his partner, artist/writer/dancer Tullah Dash, writer/artist, Nica Horvitz and her mother, singer/songwriter Robin Holcomb.
In Robin Dash's paintings on paper and canvas from "The Intrusions" series, abstract shapes and forms insert themselves into fields of slung and swiped paint. Multilayered and multicolored space provides unexpected arenas for life's intrusions. Dry surfaces and offbeat color relationships result from a wet engagement with wildness. Nuances in nudging forms and encroaching borders remind one of just how revitalizing big and little dilemmas can be.
Marlon Forrester's large, striking wall-sized drawing on tar paper is forceful in its bigger than life figure on the verge of breaking out of the paper's perimeters. In "His Airness", the loosely drawn Michael Jordan reference is constructed of black and white painted fragments which are composed of the schematic delineations of the basketball court: 3 point line, foul line, key and hoop. Power and dignity emanate from the figure, like a spiritual icon. He can be viewed as a basketball star commanding the court, as well as Black royalty holding Court, merging and defying symbolic and historic stereotypes.
Saul Levine's shimmering, ecstatic short film, New Left Notes, splices together quick glimpses and glances of the turbulent summer in the 1970s, when the Watergate hearings were televised and young people were protesting the government's crackdown on the Black Panthers. Erratically paced and shot, fleeting images of Nixon on TV and turbulent student protests are interspersed with sensual passages of young people happily drenching themselves in a public fountain with the hippie exuberance of Woodstock. Gorgeous color and textural interludes of filmic abstraction weave in and out of the political and the personal, including an air of sexual pleasure. The complete absence of sound heightens the visual and political impact of the images of the Times. The aesthetic quality of the entire film, frame for frame, finds multiple correspondences in this group show.
Marlon Forrester's video, "Playoff X", plays on a monitor juxtaposing Levine's seminal work. Forrester is concerned with the corporate use of the Black body as logo. He describes his video as a meditation on the implicit and explicit fear (that the dominant white culture has) of the muscular male, Black body. While exploring the metaphors and space of ritual created on the basketball court, Forrester engages the duality of escape and usury. In the process, those parallels and paradoxes include the interstitial and urgent issues of race, class and identity.
Coorespondence with the White House
How's Howard is pleased to present "Correspondence with the White House", a two-person exhibition featuring the work of Cara Kuball and Joanna Tam. Two distinct spaces capture the current political climate through durational videos, photographs, performative objects, and typed letters with the former president. Hong Kong-born, Boston-based artist Joanna Tam depicts herself in nearly every work.
Tam's largest video, "I'm American (Happy 4th Edition)", projects the artist's voice emphatically repeating: "I'm American", as 4th of July fireworks explode in the air behind her. Without much pause in between each exclamation, Tam's out- of-breath efforts begin to homogenize each statement, challenging the notions of ethnicity and nationality through spoken language.
"Studio Action II (That's how I deal with it)", depicts Tam in a conventional women's black business suit and patent-leather heels, demolishing a sculpture which represents her pathway to citizenship in the United States. With power tools in hand, Tam documents her persistence, strength and sense of humor while dismantling an iconic symbol of power.
Cara Kuball's video, "The Harder You Hit Me II", was made for a pop-up exhibition in Boston at The Distillery Gallery, held on the evening of Trump's inauguration. The piece initiates with the artist engaging in direct eye contact with the camera. Kuball slowly pats her chest with an open hand, establishing a constant beat throughout the duration of the video. Kuball uses this sustained rhythm to chant; "I am a little cowbell, the harder you hit me, the louder I yell". The beat, grounded by the contact of Kuball's open hand slapping her chest, grows louder as the artist increasingly strikes herself with greater force. Gradually, an open hand turns into a closed fist, as Kuball states her mantra with palpable emotion and greater determination.
Supporting objects in the gallery invite viewers to engage in Kuball's demonstration. "The Harder you Hit Me III", a freestanding sculpture, comprised of a felt covered cowbell affixed to the top of a cymbal stand, calls for viewers to strike it with a pair of drumsticks. At first, the felt muffles the ring of the bell and the initial assault of the drumsticks. Forceful, persistent blows wear away at the instrument's protective layer, allowing the cowbell to bellow out with a continuously greater expression. This leads to the critical question: how much abuse can be endured before the Voice is heard?
Each piece offers a call for a re-reading on patriotism, citizenship, national identity and migration, through the embodied experience of an immigrant in post-Obama America.
Kevin Frances "Monolith"
"Monolith"
A solo exhibition of recent work by Kevin Frances
Exhibition Dates: June, 2nd – July 16th, 2017
How's Howard? is pleased to present "Monolith", a solo exhibition of recent work by Kevin Frances. "Monolith" consists of small edition woodblock prints and miniature sculptures of common domestic objects and interiors. Frances constructs a unique and layered path, transitioning from one medium to another, for instance from sculpture to photograph to woodblock print.
Frances collects images from locations that trigger a cascade of memories, including tight corners where he regularly eats meals, worn parquet floors, awkward corridors and thresholds he routinely encounters. These mundane images pile up and become the subject of these meticulously layered woodblock prints, saturated with a quiet personal narrative and mysterious familiarity.
The intricate process of arriving at the composition of each woodblock print begins as Frances assembles a scene of miniature sculptures. Next, Frances uses a vintage slide projector to project images onto the surfaces of the miniature installation. Frances then photographs this layered scene at close range, from varying perspectives. Each photograph manipulates scale, conveying a monolithic presence to each object. Photography is an intermediary step in the development of the final composition for each woodblock print.
Images repeat in sculpture and print form throughout the exhibition, sometimes rendered realistically, other times in incongruous materials, like a corner of a room made out of speckled clay. In his unassuming and highly technical manner, Frances unpacks the deep significance of contemplative space and in the process a series of almost irrational scenarios emerge in these elegant, large-scale, woodblock prints.
Queer Painting
Jan 6 - Feb 25 2017

"Queer Painting" - Select works by Hannah Barrett, Darlin Frometa, Dylan Herwitz, Rebecca Ness, and Sean O'Connor

How's Howard? is pleased to present Queer Painting, a survey of paintings on canvas and paper by five artists immersed in very distinct perspectives rooted in queer culture and identity. Queer Painting assembles work by three artists based in Boston; Darlin Frometa, Dylan Hurwitz, and Rebecca Ness, along with two artists based in Brooklyn; Hannah Barrett and Sean O'Connor. Together, these artists establish the figure as a vehicle to explore personal identity within the LGBTQ+ community.

Gouache paintings on paper by Rebecca Ness depict the artist enacting moments customarily secluded from public sight. The small painting, "Ladies", illustrates two nude women facing each other in a dark room with arms reaching forward, elbows bent, and hands resting on opposing breasts. If the action is not direct enough, Ness' decision to crop the image just above the chin and below the belly button specifically tailors a conversation around queer exposure within a heteronomative society.

From a fly-­‐on-­‐the-­‐wall perspective, Hannah Barrett's "Small Room" paintings intimate the figure through queered interiors. Barrett captures a card game left unattended, a bubble bath filling in front of a roaring fire and a picnic set for two, alluding to scenes set-­‐in-­‐action by figures just out of the frame.

Sean O'Connor makes work in response to idealized self-­‐representation within a digital realm and its junction with gender identity, sexual orientation and heteronomative assumptions.

Dylan Hurwitz applies unconventional materials and techniques in the construction of his large, figural, mixed media paintings on canvas. Hurwitz's cacophony of materials, including bright colors and kitsch textiles, speaks to a "more is more" approach, which references a lust for over the top exaggeration sometimes present in queer imagery. These overt and subversive actions and images celebrate the sensorial over-­‐load of his queer aesthetic.

Heteronomative destabilization hits a climax in the largest painting on view by Darlin Formeta. Frometa depicts a surreal narrative rooted in Dominican mythology and its intersection with queer culture. In the photorealistic painting, "Mano de Azabache", an imposing nude male, bound in black and white platform heels and draped in an extravagant white cape, catwalks a narrow dirt trail amidst an overgrowth of botanicals. Frometa celebrates an alignment of simultaneous taboo events, depicting a moment just before a consequence; posing the question, "What happens next?"
Hot Pink, Soft Pink, Rusty Orange, White
Nov. 4 - Dec 11, 2016
How's Howard? is pleased to present a solo exhibition by Liza Bingham. "Hot Pink, Soft Pink, Rusty Orange, White" consists of paintings completed with sculptural intent. Under muslin surfaces, Bingham's shaped panels incorporate raised surfaces and curved edges that droop as though time and gravity have played a critical role in their formation.
For this project, a series of four works emphasize Bingham's use of repetition while exploring semiotics and highlighting what is missing in our current conversation.
Each painting addresses the same composition, layered step-by-step and completed in one sitting. Viewed all together, these works change from one to the next, yet are anchored by the use of a template, giving evidence of the artist's process. A vaguely familiar shape defined by one continuous brush stroke hugs the confines of each panel. These gestural shapes look symbolic, fashioned after a puzzle piece or state border. With color being the only variant, a limited sense of self-expression or preconceived notion of individuality becomes evident.
Although Bingham's work appears as non-objective abstraction, these bulky, odd objects take over the space as if they are restless visitors entering into an urgent conversation.
image credit: Will Howcroft
Marketa Klicova - Vone, Kone, Mimu
Sept. 24 - Oct. 30, 2016
How's Howard? is pleased to present a solo exhibition by Marketa Klicova. "Vone Kone Mimu" consists of paintings and drawings guided by the artist's interest in the process of emergent mark-making. From one work to another, Klicova's technique proliferates in a self-directing­ manner, allowing each work to find its own terms for completion.
In "Data Shadows", Klicova mixes cobalt blue powdered pigment with gum arabic and water. The pigment collected on the brush is spread to its limit within a confined area shaped by the specific gesture, alternating in transparency and opacity. As the marks envelop the paper, overlapping sections arise more vibrant and saturated, building illusionistic and expansive space. Painting on over-sized paper, she reinterprets the traditional approach to fresco, in a sense creating a portable fresco that generates its own context, its own background.
Her stripped-down works on canvas and paper seek to embed deeply personal references within a historically aware approach to building abstract space, inviting instead of directing the viewer to discover the fluid endpoint with her.
Susan Carr - How to do Art
July 16 - September 11, 2016
How's Howard? is pleased to present a solo exhibition by Susan Carr. "How to do Art" consists of six small-scaled constructed paintings and five moderately scaled mixed media works on paper. Although there is not much more to the construction of these paintings than old scrapes of wood, rope, oil paint and remnants of fabric, there is an unspeakable richness of gesture and color. Carr's contemplative process is revealed in her written instructions, titled "How to do Art", which generated the title of the show. In this, we come to find out how each work embodies such a complicated and vibrant history. With a limited focus of materials, Carr finds a deeply personal and expansive response to life's disarray.
Across Carr's colorful abstractions and works on paper, thoughtful actions appear carefree and happenstance.
From rusty nails, select pieces hang precariously on string or yarn, allowing gravity to play a role in their identity as each work teeters on the boundary between painting and sculpture. Carr's exceptional tolerance for chaos is evident in the powerful and evocative color relationships that become part of the subject of each piece. She scrutinizes the placement of every scrap of wood, living with each piece until they find a home in her paintings. These scraps and scrapes, take on new identities, as vivid badges of talismanic strength.
In "How to do Art", Carr leaves the viewer with a poetic tutorial on cultivating an idea. In her written statement, she engages an almost playful yet grueling recipe for generating art. Within these concise formats, Carr busts out of established confines and dives deep within the space of her paintings.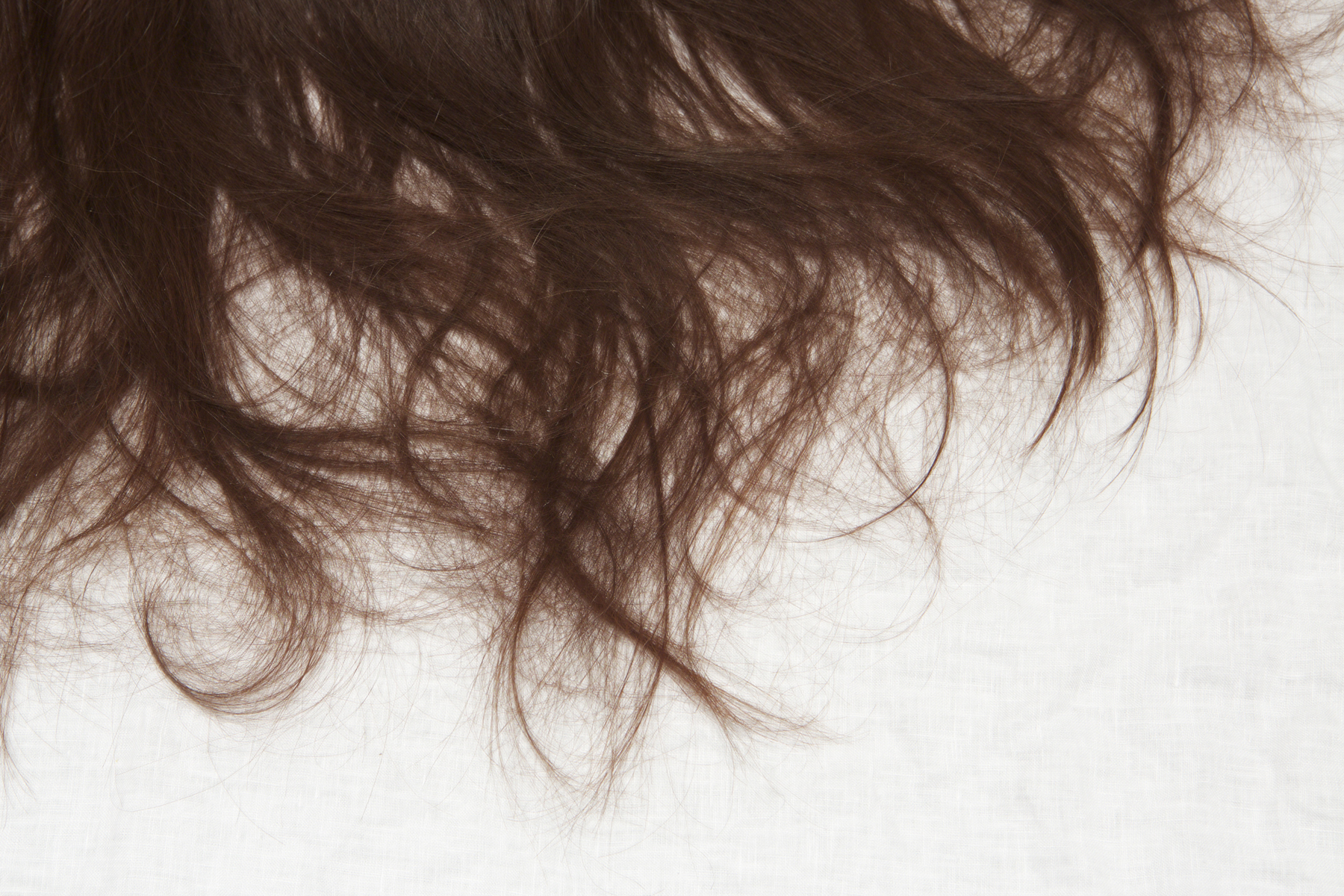 Leah Craig "In Progress: Performing Grief"
Exhibition dates: May 1 - June 11, 2016
How's Howard? is pleased to present a solo project by Leah Craig. In Progress: Performing Grief is an examination of grief: its potentialities, performances and progressions.
Given Craig's cultural disconnection from religious ceremonies and rituals around grief, she has found her personal experience within contemporary U.S. secular society to be stifling. Specifically, Craig sees mourning (the public expression of grief) as often limited to formal sacred spaces and practices.
In Progress: Performing Grief unitizes Craig's personal experience with grief. She invites a dialogue about what warrants public mourning, and which performances are socially acceptable. As a means of processing loss, Craig weaves cuttings of her hair and clothing, along with a deconstructed burial shroud, into a tapestry that is at once a mourning cloth and a repository of grief artifacts. Craig believes in the potential of ritual to heal and of shared vulnerability to humanize. She seeks collaboration through intimate transactions of cutting hair and clothing from her body. These improvisations create meaningful space for progression through and performance of grief.
The death of Craig's father was the point of departure. All materials and details in this exhibition are directly tied to her experience of her loss. In Progress: Performing Grief was derived from the phrase "Quiet please, life transition in progress", a sign which was taped to the door of his hospital room as he was in the process of dying. The clothing Craig wears in the performance has gone unwashed and unworn since the hours Craig spent wearing them beside her father until his final transition. The loom and warp thread installed in the gallery are sized to allow for a tapestry that is the approximate height and breadth of her father's body. Craig's hair (uncut since this significant loss) is an artifact of this transitional experience and the period that follows - a tangible reminder of that swath of time.
In the performances (May 1st, 11-5pm & May 6th 5-9pm), participants are invited to cut a piece of Craig's hair or clothing and pin these cuttings to the wall. There will also be an opportunity for participants to write on the wall about their own experiences with grief. Craig's hope is that through this collaborative effort, she will expand and complicate what is both acceptable and possible within the public expression of grief.
2008BFA University Nevada Las Vegas
2012MFA School of the Museum of Fine Arts, Tufts University
Corey Dunlap: Out of Shape April 1 - April 29, 2016
How's Howard? is pleased to present a solo project by Corey Patrick Dunlap. Through an ongoing series of sculptures and digital renderings, Dunlap's most recent work incorporates the aesthetic and social strategies of corporeal objects including athletic, recreation, and soft-play equipment.

Dunlap has most recently produced a series of digital prints constructed through the 3D modeling program Blender. These virtual drawings depict perversions of modern day play structures often used by children during times of recreation. By formally displacing these active systems, imagined bodies are encoded into the armature. Reducing the figure into definable terms, the torus emerges as a stand-in for the human body, existing between reality and speculation.

The torus (not to be confused with Taurus) is a geometric form generated by revolving a circle around an axis in three-dimensional space. Though proportions may vary, the most common type of torus resembles that of a doughnut, ring or inner tube. The fundamental logic of many 3D modeling programs rely upon pre given "mesh" objects from which all other forms are created. These basic forms include a cube, sphere, cone, cylinder, plane and torus. By highlighting this virtual process of creation and manipulation, a series of philosophical propositions arise in Dunlap's work relating to bodily representation, perceptions, and our ability to generate meaning through our environment.
Maria Molteni - L'oeuf et L'oeil (The Egg and The Eye)
March 4-29, 2016
L'œuf et L'œil (The Egg and The Eye) describes a growing body of paintings and sculpture that explore perception, perversion, boundaries, and surveillance through the visual and material language of tennis. The following is a guide for viewing a playful new direction by multimedia artist Maria Molteni.
In a tennis match players are tied at l'œuf at the beginning of a game. L'œuf (the egg) is said to be the origin of the present-day english term "love" because an egg in three dimensions resembles a zero. The latin alphabet grapheme Œ is playfully referred to as e dans l'o ("e in the o") or o et e collies ("o and e glued") by the French. Other words that employ Œ include cœur ("heart"), sœur ("sister"), œuvre ("work"), and œil("eye").
In recent years, tennis players who doubt the vision or judgment of a line umpire may turn to a system called "Hawk-eye" to verify a disputed call. A notorious match in the 2004 US Open between Serena Williams and Jennifer Capriati, in which Serena lost a match due to a high number of unfair line calls, was a game changer for implementing the "Hawk-eye" system as standard protocol. Hawk-eye technology closely surveils the game of tennis via 6 or 7 cameras positioned to track the trajectory of a moving tennis ball from different angles. The recorded information is then triangulated and combined to create a representation of the ball's contact with the court. Taking ball skid and compression into account, this image never resembles the spherical tennis ball we all know. Instead, the simulated impression favors the contour of an egg.
This direction is inspired by many years of playing competitive sports and the times Molteni watched, in awe, as her mother seamlessly pulled spare tennis balls from under her skirt (not unlike a laying hen). The particular hawk-eye imagery that informs these works were pulled from the Serena vs. Venus Williams match that she had the privilege of attending with her mother at the 2015 US Open.
Darlin Frometa: Fighting Superstition
February 4 - February 29, 2016
Like Another - November 17 - January 9, 2015
"Like Another" - Select works by Keiko Narahashi, Anthony Palocci Jr., Mark Puchala, Parsley Steinweiss, and Brad Tucker
INAUGURAL EXHIBITION- Oct. 2 - Nov. 14, 2015
Select work by Marketa Klicova, John Robert Roy and Thomas Willis